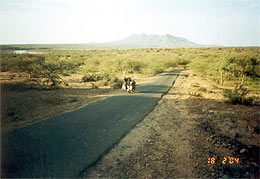 It was already 15:20 hours and I had to rush to my third section of the Rann – Khavda. The route I planned initially got flopped as the locals persistently discouraged me as the road was damaged by the recent flooding of the Rann. Therefore I had to miss the "Haji Pir Ki Dargah" and the adjoining Rann. 'That evening when I rode to Khavda' can itself become a full-fledged 'landscape' article. The unique thing about the landscape of the Rann is that it can be silty or flooded. Imagine Sun going down or rising far at the horizon on a clear sky. As good as looking at the Sun on Sea or Desert. Superb views coupled with quiet evenings and mornings.
I reached Khavda at around 19:00 hours. There was a small cluster of shops and few locals were sitting and chatting beside the road. I stopped my bike before a shop and asked the folks for a place to stay. They started enquiring me. Few moments later, the guys revealed themselves as Intelligence officials. They informed me that I couldn't stay in Khavda as I have not brought the permission from Bhuj. I explained them that I had no information about the permission. They asked me to go back to Bhuj and bring permission. This seemed ridiculous to me as it was already 7:30 pm and Bhuj was 160 kms away and that too involved riding in the night on a bumpy road. I asked them for the nearest BSF post. They got furious over my query and said, "Tumse bola naah! Wapas jaao aur permission leke aaao". As if I am not an Indian. I left them then and there and headed straight to the STD shop. The shopkeeper showed me the way to the Govt. guest house. Raoji bhai is a friendly fellow in his fourties. I asked for a room and he gave me one after identification. I thought it best to explain him what happened with those intelligence officials because they may trouble him later. Raoji bhai, though feared those officials, suggested me a way to protect the mutual interests. In the next few moments, Khavda found me in the BSF camp, 5 kms off the town waiting for the 'Chief'. It was a pleasure to meet Mr. Leeladhar and Mr. M. K. Rana, his junior. Both BSF officers not only welcomed me but also assured me a visit to some 'restricted areas' near the Indo-Pak border after verifying my identity and learning about my interests. I returned to the guest house and asked Raoji Bhai to talk to the officers. At around 9:30 pm I went to the town to scour for food. I was lucky to find a local who took me to another local's house. I had a sumptuous gujarati meal, the one normally taken in the 'fast' as it was the night of the pious Mahashivratri.
The room was excellent and I had a very good night's sleep. Next day I was ready by 8:30 am and kept waiting for the two officers till 10:00 am, when they finally turned up. They regretted the late arrival due to some off late instructions from the headquarters and we were off to the one of the most unexplored regions in the western India. They left me at the India Bridge where no civilian could step except some privileged or authorized ones. Oh! What a sight. Unforgettable! On one side the Rann and on the other a small pool of rainwater flooded by flamingoes feeding on the algae. Five kilometers beyond that is 'Anda Bet' which is accessible only on the camel back till recently. Anda Bet is the place where Flamingoes lay their eggs in the GRK. And mind it. All this I enjoyed under the deafening noise of the engines of the Military trucks which kept on trailing one another, incessantly, till the time I bade goodbye to the guard at the India Bridge.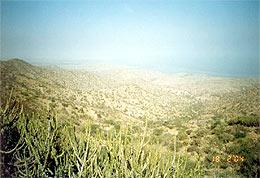 Mr. Leeladhar earlier informed me that had I brought the permission from Ministry of Environment or Defence, Indo-Pak border would not be an issue. Then I headed towards 'Kala Dungar'. I was informed by the locals that 'Dungar' means a hill in 'Kutchi' language. "Kala Dungar" is the highest hill in the whole Kutch region, most beautiful and very critical with security point of view. It took me around an hour to climb to the top. A temple of Lord 'Dattatreya' has recently been renovated. It has a strange but true tradition. The food prepared in the temple premises is taken to a small hillock twice a day and the priest beats the plate and shouts – "Lome" many times. The priest informed me that a fox comes and eats the food and then only we have our food. Water shortage is the main problem there but a lot of construction activity was going on. Hill is heavily guarded by the BSF, Army and Air Force, though the latter has temporarily moved out from there.
I had little fuel (petrol) left in my tank and I knew fuel is not available till Bhuj. I approached Army guys and explained to them my problem. They were very friendly and chatted with me. After some initial hesitation, they asked me to come after one hour. They asked me to explore the hills till that time. After some rock-climbing, I was treated with some breathtaking views of the Rann. You can guess my enchantment with the Rann by the fact that I clicked at least ten snaps there. After one hour, when I returned, I was drenched with sweat. Army guys offered me food which I humbly declined. They gave me 1.5 Liter of petrol. Not even a single vehicle of theirs runs on petrol. I thanked those extra-ordinary men in the uniform. In fact I bowed before them, not for petrol but for the spirit with which they shared their precious resource without a fee. Believe it or not!
Then I came back to Khavda, took the rest of the luggage from the guest house, thanked Raoji Bhai for all the help and hospitality and headed straight for Bhuj.
On the way, I was struck with a sight which was a lesson for me. To tell you the truth, I never believed the 'lome story' of the Dattatreya temple at Kala Dungar. And look at this. What I saw running across the road was a full-fledged FOX. Yes buddy! A Fox, and that I saw for the first time in my life, never saw even in a zoo. Dark brown coloured – a camouflage – and very afraid of me and my machine. Kept running deep into the Rann taking brief halts to watch for me if I am following.
I never found time for the Bhuj city. I left the city at around 6:00 pm and stayed in Varahi, little short of Radhanpur. Next days halt was at my Bua's place in Pali. There I interacted with some school children and local leaders. Next day's news paper had a news article on my journey and arrival.